Go with the Undisputed Industry Leader
Get The Texas Protax Advantage
The numbers speak for themselves. Texas Protax produces superior results by helping thousands of property owners lower their property taxes and save millions of dollars in excessive property tax. In Austin alone, Texas Protax has saved residential and commercial property owners more than one billion dollars in property value. The cumulative reduced property taxes had a reduction of over $24 million.
Trusted by Property Owners Across Texas
We Outperform the Competition
Texas Protax obtained reductions in 80.75% of our residential and commercial appeals. Compare this to other firms, who only got 75.89% of their appeals at a lower rate. Texas Protax produced 30% greater reductions in residential property value. It is better than all other Austin tax agents combined.
Market Share Leader
Texas Protax successfully represented nearly 3 times more of the million-dollar properties in Travis county than all other firms totaled together.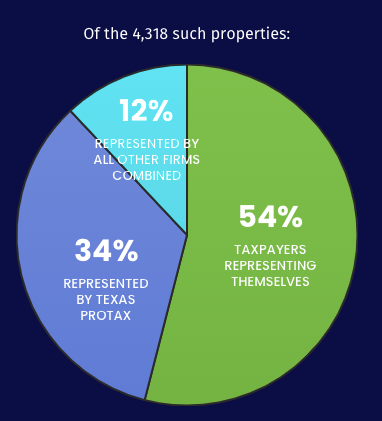 TEXAS PROTAX

90%

90%

OTHER FIRMS

75%

75%

Representing Themselves

25%

25%
Highest Success Rate
Of the residential properties appraised at over a million dollars, Texas Protax has the highest success rate. Texas Protax is the best at lowering property tax bills.
Only 14% of those who represented themselves received a tax reduction.
Texas Protax leads the industry with a 70% success rate!
The Largest Reductions
It is not just the frequency of success, it is the size of savings that matters. Texas Protax succeeds in obtaining larger tax reductions than the competitors. Texas Protax has a 7.66% average reduction of residential property values. This equates to an average tax savings of $1,180. All other tax agents combined average only 5.88%. So you get bigger savings!
Texas Protax Obtained 59% of all the successful residential appeals by agents in Travis County in 2012.
Texas Protax Obtained
59%
all the successful residential appeals by agents in Travis County in 2012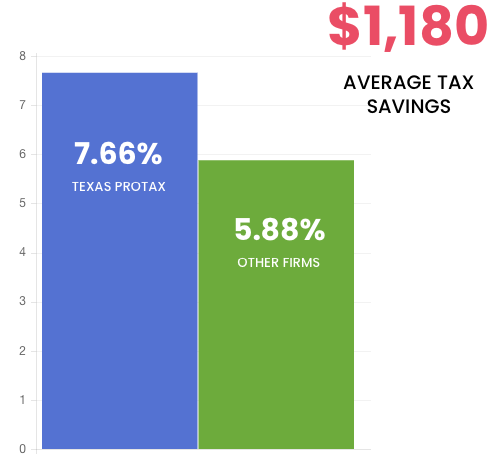 No Results Found
The page you requested could not be found. Try refining your search, or use the navigation above to locate the post.
Jamais True
"They do it all so you don't have to go through the pain and agony being rejected like I was when I tried to protest my taxes myself (with lots of paperwork and photos to support it). They have always been successful for both of our properties."
Heather Lavis
"Great company! Very professional and every year they reduce our tax increase. Very reasonably priced at a percentage of the savings. Easy to process and friendly customer service!"
D Miller
"Texas Protax has helped with my home taxes for years and saved me thousands. They are honest and hard working."
Juli E
"Love Them! They save us sooo much money on our taxes each year! I use them every year and it is TOTALLY worth it!"
Stephen Dunson
"Excellent customer service, excellent property tax representation."
Latest Articles, Tips
& News
April 10, 2023
January 18, 2023
December 19, 2022